Back to the list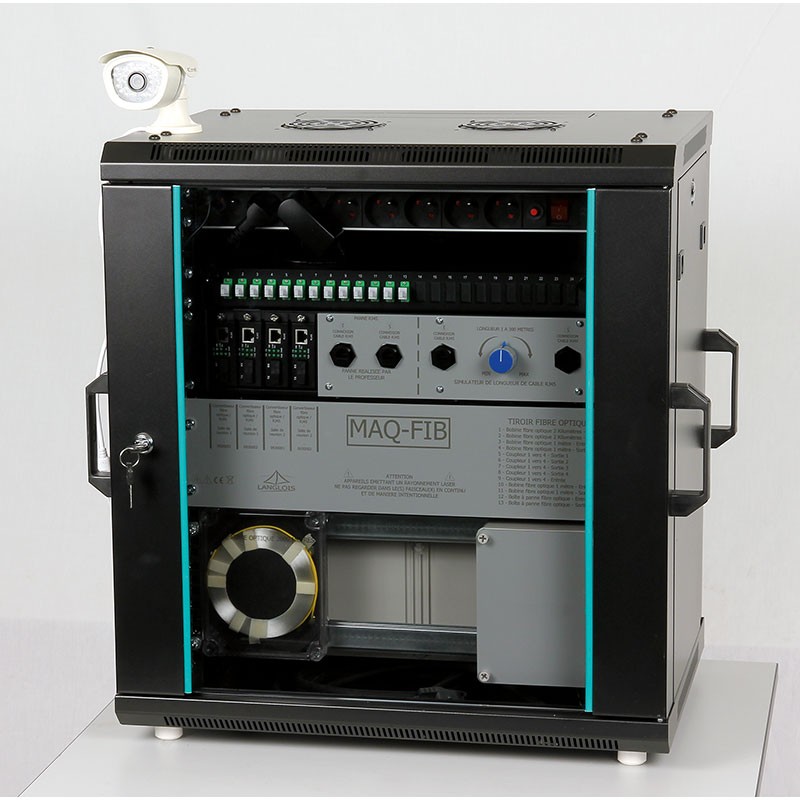  
Optical fiber study
Supplied with a Student + Teacher teaching documentation and numerous practical works, this educational model makes it possible to understand the use of optical fiber and to compare it with Ethernet cabling networks in RJ45.
Educational objectoves• Present the components of an optical link
• Master the principles of optoelectronic data transfer
• Understand the role of an optical coupler
• Compare transmissions on optical media and RJ45
• Address the limits of copper compared to fiber (distances, flow rates, ...)
• Highlighting the main failures of an optical link
• Highlighting the main failures of an RJ45 link
• Manipulations and practical work on the model
Practical work provided
• Course questions (theoretical course written by a specialized trainer)
• Commissioning of a camera via the RJ45 network
• Commissioning of a camera via the fiber optic network using media converter
• Understand the value of a 4 to 1 coupler
• Highlighting the speed problem over a long RJ45 length
• Diagnosis and identification of common RJ45 faults (wire cut inversion of straight / crossed wiring, etc.)
• Diagnosis and identification of common fiber optic failures (cut fiber and strain on the fiber)
• Measurement on the RJ45 cable using a network tester
• Measurement on the optical fiber network thanks to a power meter and a light source on optical fiber
• Analysis of uplink and downlink speeds and internet latency via the RJ45 network and via fiber optics (this lab requires internet access)
Composition of the model
• 1 brewing box composed of:
    - 1 multiple socket protected by fuse
    - 1 fiber optic patch drawer
    - 1 4-way optical coupler connected to the drawer
    - 1 fiber optic coil of 2 km connected to the drawer
    - 1 set of optical fibers connected to the drawer
    - 2 media converter RJ45 / Fiber optic pairs
    - 1 RJ45 cable length simulator
    - 1 teacher interface for fault management (access to the rear by key lock)
• 1 IP camera
• 1 optometer source with visible and invisible light source
• 1 power meter to carry out the attenuation measurements
• 1 RJ11, RJ45, and BNC network tester with remote control block
• 1 set of 4 RJ45 cords and 6 optical fiber
• 1 cassette cleaner for optic fiber connector
• 1 fiber optic cleaner pen, 2.5mm ferule
• 1 educational file including:
    - A presentation of the model
    - 6 lessons on CD with video support allowing a complete approach to optical fiber (history, presentation of the different optical elements, specificities, optical measurements, applications ...
These courses are not just a stack of knowledge. Made by a certified fiber optic trainer, they allow you to understand what an optical fiber is, what each concept corresponds to, when to use one measurement element rather than another, how to troubleshoot or make a recipe, in order to make it autonomous to easily survey the relatively complex area of ​​optical fiber.
    - Manufacturer's notices
    - Students / teacher practical work
    - The installation diagram
Free
quotation

Answer
under 48H00

Delivery
worldwide

2 years warranty
for all our products

Export service
available
Do you need help ?
You can't find a product,
You want technical informations,
You want to talk with us
Contact us
Find out all the useful contacts
Where to find us ?