Back to the list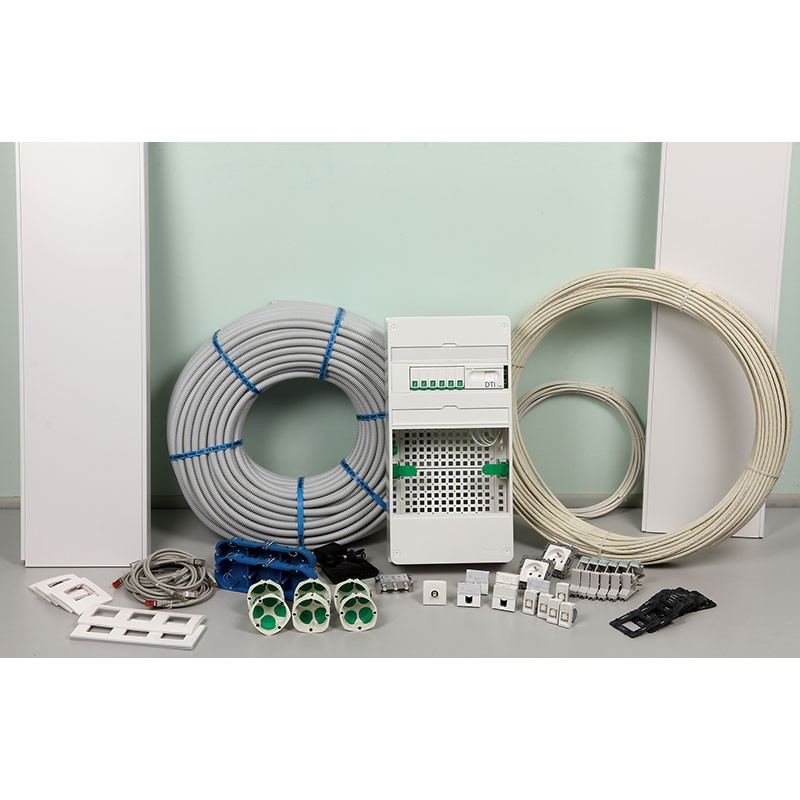  
Home VDI kit
All components for the GRADE 3 wiring of a home VDI (voice, data, image) system. Satisfies new multimedia requirements for the home Based on the implementation of a star-wired wire network, and which carries computer, TV/SAT and telephone signals. The RJ45 sockets, wired directly into the VDI unit, become universal. They can receive any of the 3 desired signals: Voice (telephone) Data (Computer) Image (terrestrial TV) Wiring possible with partial or complete unbundling.
• 1 communication unit with patch, GRADE3
• 1 internal termination device (DTI connexion box)
• 1 telephone distributor
• 1 kit to fasten equipment on the grid
• 1 modular Terrestrial/ satellite TV distributor
• 1 modular broadband filter
• 1 set of GRADE3 RJ45 leads in 50cm and 3m lengths
• 1 set of RJ11/RJ45 telephone leads and RJ45/Type 'F' TV leads
• 10 RJ45 wall sockets GRADE3
• 2 TV/SAT wall sockets
• 1 ETHERNET switch 5 ports
• 25 metres of 75 Ohms TV /SAT co-axial cable
• 50 metres of cable 4 pairs GRADE3 900MHz
• 1 set of equipment flush fittings for dry partitions.
• 1 100m coil of Ø20mm corrugated sheath
Free
quotation

Answer
under 48H00

Delivery
worldwide

2 years warranty
for all our products

Export service
available
Do you need help ?
You can't find a product,
You want technical informations,
You want to talk with us
Contact us
Find out all the useful contacts
Where to find us ?