Back to the list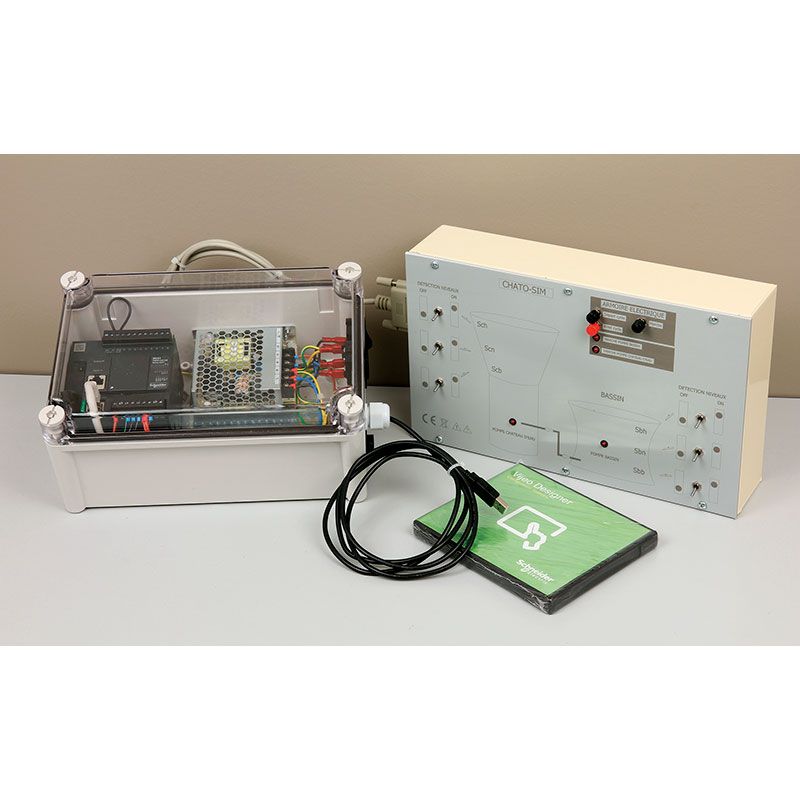  
Pumping station
This model simulates a drinking water pumping station. Using a TCP/IP PLC and monitoring software, it is possible to control the model and view its operation on a computer.
OPERATING PART
• 3 push-buttons for On / Cycle Start / Cycle Stop
• 6 switches representing the water level sensors.
• 4 lamps representing the operation of the two pumps.
PLC
• with 7 relay outputs and 9 inputs, with RJ45 connector for Ethernet connection
Supplied with
- a 1.5m M/F DB25 cable for interconnection with the model.
- programming software in English/French in ladder language.
• Dimensions: 170 x 130 x 130 mm. 220-240V AC
MONITORING
• Multilingual software for controlling the lights using a PC
• Offers the basic features of a graphical tool
- acquisition and display of PLC variables
- monitoring and control of the station' operation (start-up and shutdown of the pumps and maintenance operations, etc.). )
• The software's graphics editor supports many applications.
The user can modify the preloaded demo program or create a new one
FEATURES OF THE ASSEMBLY
• Dimensions: 330 x 200 x 80mm
• The assembly is supplied already wired with a monitoring example and all mains leads necessary for proper operation
Free
quotation

Answer
under 48H00

Delivery
worldwide

2 years warranty
for all our products

Export service
available
Do you need help ?
You can't find a product,
You want technical informations,
You want to talk with us
Contact us
Find out all the useful contacts
Where to find us ?