Back to the list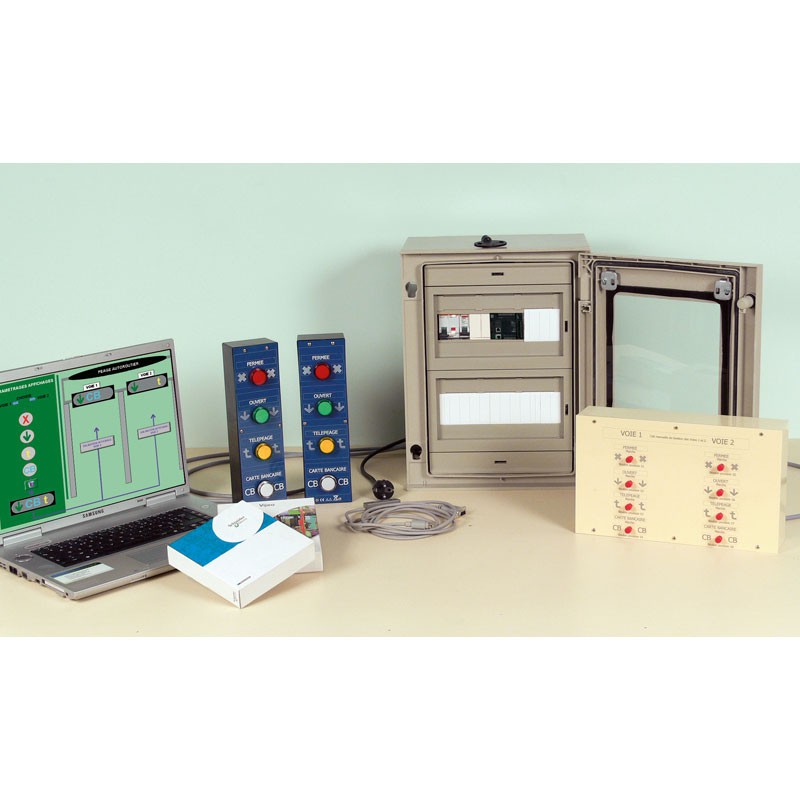  
Toll indication cabinet
Simulates a motorway toll. Comprises 1 electrical cabinet and 2 toll lane indication signs. Using a TCP/IP PLC and monitoring software, it is possible to control the model and view its operation on a computer : opening/closure of lanes, management of banker's card or telepayment (electronic road pricing (ERP)) payments, manual or automatic function with time-stamp on the PLC, etc.
ELECTRICAL CABINET
• 1 32A rated 30mA residual current four-pole circuit breaker
• 1 single-pole circuit breaker for protecting the PLC and sign
• 1 set of junction boxes

OPERATING PART, EACH CONSISTING OF
• 4 24V lamps (Open / Closed / Banker's card / Telepayment)
• 2 m of multiwire cable for connecting to the electrical cabinet.

PLC
• with 10 relay outputs and 14 inputs, supplied with
- 1 TCP/IP interface for Ethernet connection
- 2 1.5m multiwire cables for interconnection with the model
- programming software in English/French in ladder language.
• Dimensions: 170 x 130 x 130 mm. 220-240VAC

MONITORING
• Multilingual programming software for managing the toll indication cabinet from a PC.
• Offers the basic features of a graphical tool
- acquisition and display of PLC variables
- monitoring and control of the toll lane (lane open, lane closed, payment by BC or telepayment)
• The software's graphics editor supports many applications.
The user can modify the preloaded demo program or create a new one

FEATURES OF THE ASSEMBLY
• Powered by a 230V mains cable
• Metal industrial cabinet with a glazed door
Dimensions: 400 x 300 x 200 mm
• Indication sign: 420 x 80 x 70 mm
• The unit is supplied already wired with an example of monitoring and all the linking cables which are required for its proper operation
Free
quotation

Answer
under 48H00

Delivery
worldwide

2 years warranty
for all our products

Export service
available
Do you need help ?
You can't find a product,
You want technical informations,
You want to talk with us
Contact us
Find out all the useful contacts
Where to find us ?