EDUCATIONAL OBJECTIVES
• To learn about the HOME AUTOMATION environment of an electrical installation
• To learn about and study the features of a KNX home automation installation
• To understand the specifications of an electrical installation
• To produce electrical diagrams
• To create a parts list of components and analyse manufacturer technical data sheets
• To configure the KNX components
• To put installation into service
• To configure the WiFi network for control via tablet or smartphone


Composition of the model
• 2 40W bulkhead lights
• 1 tertiary panel attached to the aluminium frame including:
- 1 Ph+N C10A circuit-breaker with its residual current device
- 1 Ph+N C2A circuit-breaker
- 1 30V-320mA power supply module. KNX
- 1 USB interface module. KNX
- 1 module, 2 on/off outputs, power supply for convector (16A). KNX
- 1 module, 2 on/off outputs, light power supply (10A). KNX
- 1 module, 2 variable outputs. KNX
- 1 rolling shutter module. KNX
- 1 4-key pushbutton. KNX
- 1 2-key pushbutton. KNX
- 1 thermostat with screen. KNX
- 6 4mm safety terminals to connect the 2 bulkhead lights and 1 load
- 1 wattmeter module. (MAQ-KNX-C only)
- 1 KNX Ethernet interface. (MAQ-KNX-C only)
• 1 configured WiFi router (MAQ-KNX-C only)
All the KNX modules, as well as the configurable pushbuttons and room thermostat, are integrated in a modular panel fixed to an aluminium frame easy to set up on a table. A connection interface with 4mm safety terminals can connect 2 230V bulkhead lights provided with the model. Statuses of KNX component operation (lighting and roller shutter) are displayed directly on each module.
Two other terminals on the communicating version enable connection of a convector or any other load. The power will display directly on your tablet or smartphone. A WiFi switch + IP interface unit lets the student measure consumption and control the installation from a tablet or smartphone. The WiFi network created locally is specific to the model,so it is isolated from your institution's WiFi network.
MAQ-KNX and MAQ-KNX-C are delivered completely configured.
Delivered with ETS Lite software for programming the model.
Teaching instructions on DVD in Instructor / Student format, including:
• Technical instructions, manufacturer resources for KNX components
• Excerpts of electrical standards
• Layout diagram of the components
• Electrical wiring diagram
• Video tutorials to teach KNX programming simply.
• Different KNX installation programmes
• Learning activities that allow you to create scenarios in order to optimise the installation's operation, while preserving the occupant's comfort.
• Q/A-type skill assessment sheets in Excel® software. An administrator password lets the instructor correct the student's assessment and modify the questions/answers as required.
You may also be interested in these products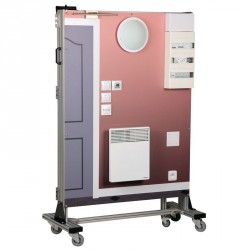 Free
quotation

Answer
under 48H00

Delivery
worldwide

2 years warranty
for all our products

Export service
available
Do you need help ?
You can't find a product,
You want technical informations,
You want to talk with us
Contact us
Find out all the useful contacts
Where to find us ?