Back to the list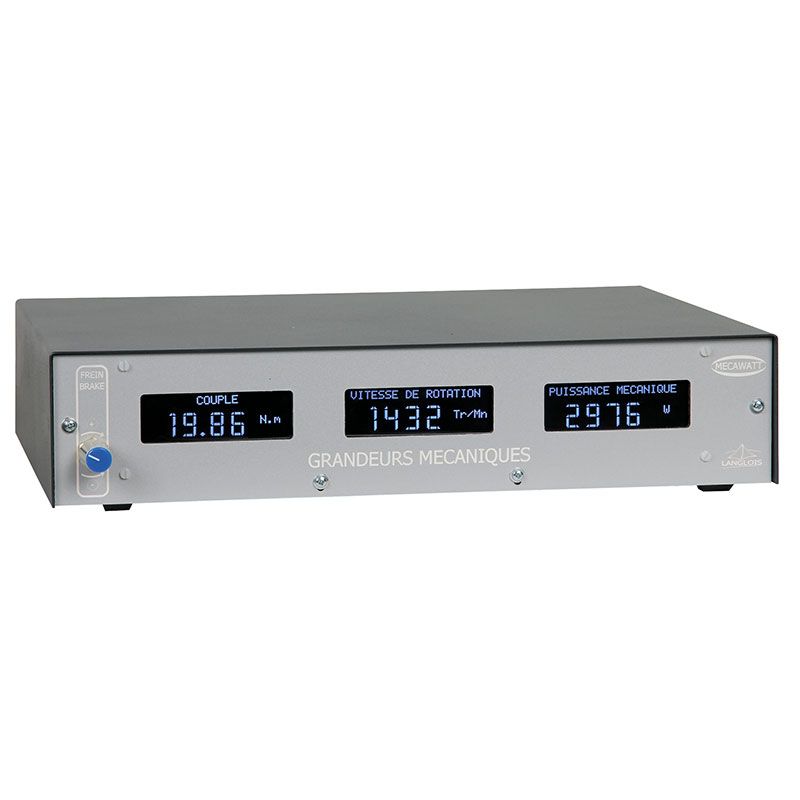  
Measurement of mechanical quantities
MECAWATT is a display unit for showing 3 mechanical values of torque, speed, and power, with measurements taken on rotating machines using a torque sensor and a tachogenerator. It also includes:
l a manually adjustable energising source for a powder brake, or by external signal
l analog copies of output of the three mechanical values.
Supply : 230V 50Hz,  30VA.
Dimensions : 375 x 80 x 275 mm -  5.8kg.
Height of digits : 14mm (text: 6mm)
DIRECT DISPLAY
• of the mechanical torque in Nm
Brushless torque sensors (-V2)
• of the speed of rotation n in rpm.
Sensors used: any tachometric dynamo of rating 10 - 20 - 60 V at 1000 rpm.
• of the power W
MECAWATT calculates internally the mechanical power
Pu = M 2π n/ 60 and directly displays the results in watts.
FRONT PANEL ADJUSTMENTS
• manual control of braking intensity
ANALOGUE INPUTS AND OUTPUTS
The rear of MECAWATT is equipped with:
• a brake control input by 0 to 5V externally controlled by an analog signal . Impedance 1kΩ
• a 0 to 10VDC output at 0 to 500mA manual energising adjustment for a powder brake
• a -5 to +5V* average torque image output**
• a -5 to +5V* average speed image output.
• a -5 to +5V* average power image output.
* The sign indicates the direction of rotation of the motor.
** The integration time constant of the average values is 1s.
MECAWATT is compatible with:
• motors of 90 – 300 – 1500 – 3000W
• rotating torque sensors of 2 to 100 Nm
• tachometric dynamos of 10 - 20 - 60V at 1,000 rpm.
Free
quotation

Answer
under 48H00

Delivery
worldwide

2 years warranty
for all our products

Export service
available
Do you need help ?
You can't find a product,
You want technical informations,
You want to talk with us
Contact us
Find out all the useful contacts
Where to find us ?