Back to the list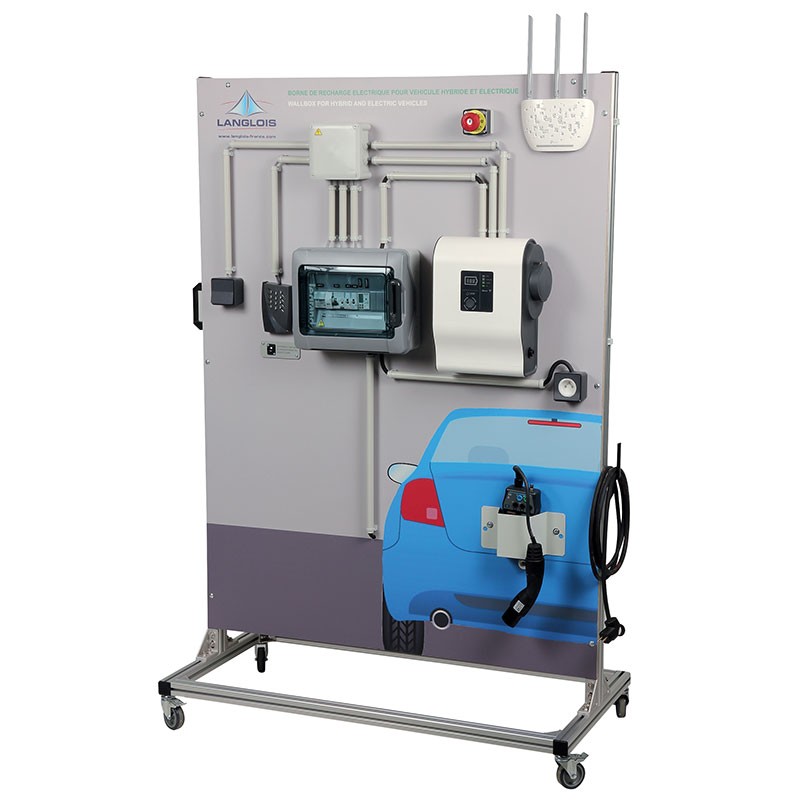  
Study of a wallbox for electric vehicle
BORNELEC1-M allows you to discover and study the operation of an electric car charging station for domestic use. This educational solution allows you to familiarize yourself with the installation, wiring, configuration and testing of a charging station. Put yourself in the shoes of an authorized installer by applying the NFC15100 checks and by discovering the compulsory E.V.Ready self-checking sheets during an installation.
Educational objectives
• Study an electric vehicle charging station.
• Wire a charging station for a domestic electric vehicle.
• Commission an electric vehicle charging station.
• Test and diagnose an electric vehicle charging station.
• Study an access command by code keypad and RFID badge
• Study a communication by Wifi or Bluetooth
• Study the different types of electric vehicle charging sockets
Practical work
• Evolution of the installation through 4 scenarios:
    - via a switch
    - via a clock
    - via a programming keyboard.
    - via RFID badges
• Keyboard setting for daily use, choice of operating mode and user management.
• Test and display of signals from the charging station (presence of voltage, charge with or without ventilation, error) using the simulator provided and an oscilloscope.
• Configuration of the Wifi switch and use of the Legrand® Webserver thanks to the Wifi or Bluetooth module for remote configuration: modification of the charging mode, programming of charging times, making settings (deactivation / activation), plug, start or stop of the terminal, current setting), consultation of the history and charging errors and update of the terminal.
• Performing NFC15100 checks
• Discovery of E.V.Ready self-checking sheets
• Operation of the free EVCharge application allowing data management users (terminal block charge status, programming operating hours, consumption of your last charge)
• Cutting and fixing IRL tubes for wiring the different elements of the model.
Educational support on DVD
• Instructions and installation
• Technical notices
• Theoretical reminder on mode 3 type 2 sockets
• Teaching scenarios in the form of a TEACHER / PUPIL type practical work.
• Cable schematics
Components present on the screen-printed front panel
• 1 modular panel equipped
    - 1 30 mA differential circuit breaker
    - 1 undervoltage coil
    - 2 modular power contactors
    - 1 clock
• 1 surface-mounted switch
• 1 code keyboard with USB port for programming via the software supplied with the model (3 operating modes by RFID badge and / or code)
• 1 single-phase 3.7 kW to 4.5 kW electric charging station (one mode 3 type 2 socket) with integrated web server allowing the setting of the station via the Wifi switch or operation by the user via Bluetooth. Application to download free from Play Store® or Apple Store®
• Support for the tester
• 1 RJ45 Wifi switch (connection on 2P + E socket)
• 1 protruding 2P + E socket
Components present on the rear panel
• A screen-printed box contains industrial terminals which group together the wiring for the control and the various components. This avoids the wear of the screw terminals of the components. For the safety of the user, the voltage present on the industrial terminals does not exceed 12VDC. The learner can therefore safely take measurements there.
Supplied accessories
• 1 electric vehicle charging station tester to measure, test and simulate signals from an electric vehicle. BNC terminal allows you to observe these signals using an oscilloscope
• 2 RJ 45 cords (1 meter and 3 meters)
• 1 communication cable for programming the keyboard via a PC
• 2 RFID badges for the keyboard
You may also be interested in these products
Free
quotation

Answer
under 48H00

Delivery
worldwide

2 years warranty
for all our products

Export service
available
Do you need help ?
You can't find a product,
You want technical informations,
You want to talk with us
Contact us
Find out all the useful contacts
Where to find us ?