Back to the list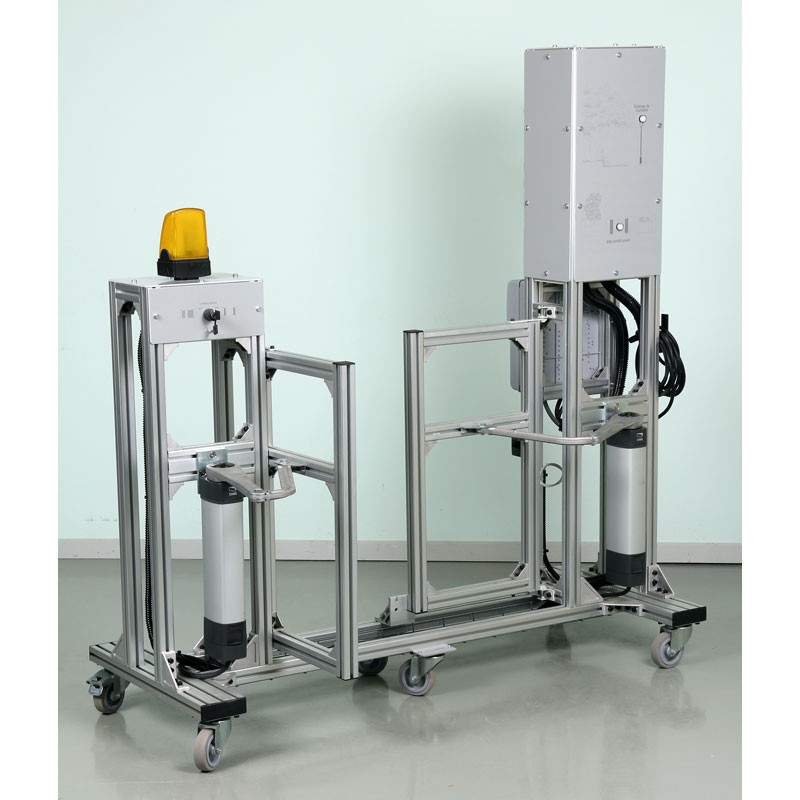  
Dual energy electric gates, solar or mains 230VAC
Models of automated electric and / or solar gates with double wings or sliding. All the electrical connections of the components (motors, cells, headlight, management card) are brought back to a front panel using 4mm safety terminals.
Educational objectives
• To observe and understand the operation of electric gate automation.
• Reminder about the different solar panel technologies.
• To study the operation of an assembly of solar panel, battery, charge regulator.
• To take measurements of electrical values.
• To study the operation of photo-electric cells.
• To learn how to program gate automation according to several operating criteria.
• To perform industrial maintenance operations.
Composition of the gates
• One electronic unit with control board equipped with digital display and three pushbuttons for configuring the assembly.
• One console with printed diagram of the different components including all the gate's connectors. Interconnection with safety leads supplied.
• Two gear motors 24VDC with hinged arm (version POA-1) and one motor 24VDC (version POA-2).
• One signalling light.
• One pair of photocells.
• One face equipped with 2 indicator lights to simulate lighting in the gate opening area and garden lighting.
• One two position switch for opening/closing of the gate, or a single leaf (for version POA-1).
• One unit with battery 24V-12Ah and charge regulator 24VDC
Free
quotation

Answer
under 48H00

Delivery
worldwide

2 years warranty
for all our products

Export service
available
Do you need help ?
You can't find a product,
You want technical informations,
You want to talk with us
Contact us
Find out all the useful contacts
Where to find us ?