Back to the list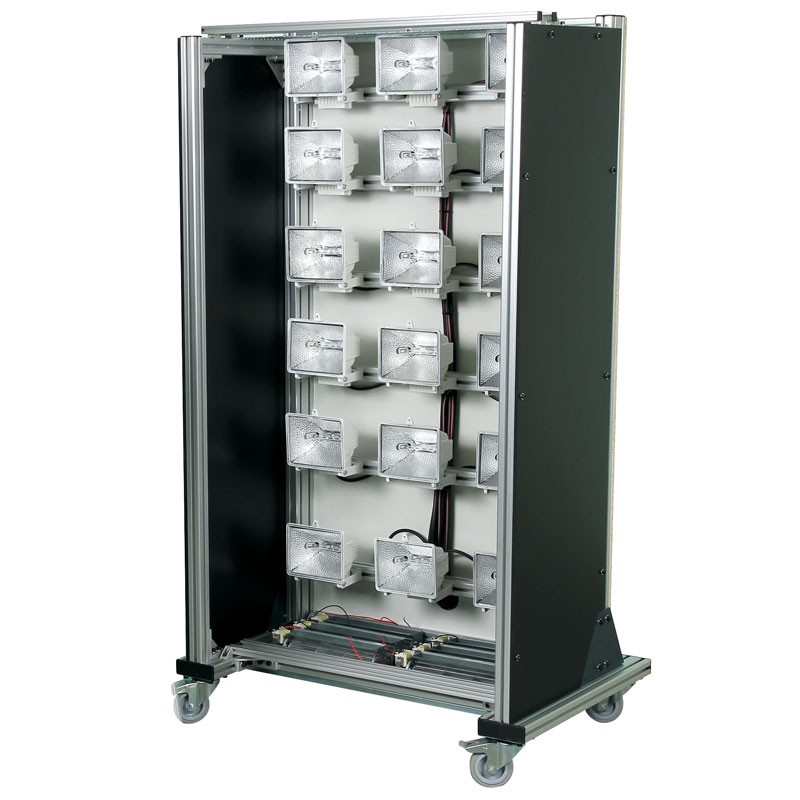  
Optional artificial solar source
This source for getting around the loss of sunlight by illuminating the solar panel with artificial light whose spectrum is close to sunlight. While not having as much luminosity as unclouded sunlight, it illuminates with sufficient intensity for the panel to generate 1/3 of its peak power Wc (corresponding to sunlight at 1kW/m²)
The solar panel can be removed easily in order to replace a spotlight quickly if necessary.
The unit located on the back of the spotlights panel includes
• a key-operated emergency stop button for cutting the electricity supply to the spotlights
• a digital thermometer shows the temperature at the surface of the solar panel. Accuracy 1°C.
• a potentiometer for lighting adjustment, by dimmer built into the unit
• a flow control for the forced ventilation
• automatic power supply cut-off to the spotlights in the event of abnormal temperature rise of the solar panel
PRACTICAL WORK
Adjustment of the light intensity demonstrates the correlation between the light flow and the current delivered by the photovoltaic panel, at constant voltage.
A temperature probe linked to the unit thermometer is located on the solar panel. This shows its instantaneous temperature. Any reduction of the ventilation flow causes the panel temperature to rise, and lowers the photovoltaic current in constant lighting.
Free
quotation

Answer
under 48H00

Delivery
worldwide

2 years warranty
for all our products

Export service
available
Do you need help ?
You can't find a product,
You want technical informations,
You want to talk with us
Contact us
Find out all the useful contacts
Where to find us ?