Back to the list
 
Control panel for analogue video surveillance - 4 cameras
This system allows the study of a hybrid analog CCTV and IP Easy. The student performs the interconnection with BNC and Ethernet cables between cameras, recorder and monitor. With the built-in recorder web server, the student will be able to configure addressing, parameters for different cameras, viewing of different camera images. Recording on detection or time slot.
Educational objectives
• Understanding and configuring a set of CCTV components.
• Understanding of setting, programming from an embedded Web server.
• Setting an Ethernet computer network.
• Wiring a network of type hybrid analog and IP easy.
Composition
• 1 video recorder AHD DVR, 8 video inputs Full HD, IPS 120, 1TB HDD.
Integrated web server for configuration and viewing of videos.
Images viewing from the 4 cameras simultaneously on the monitor.
• 2 AHD directional cameras, sensor 1/2.8'' CMOS, 36 infrared LEDs for night vision, resolution Full HD (1080p).
• 2 swivel Easy IP cameras, sensor 1/4'' CMOS, 30 infrared LEDs for night vision, HD (720p) resolution, 30 FPS. Supplied with IP / BNC connector.
• 1 LED Monitor 15.6 ''. HD resolution.
• 1 multi-sockets unit 230V for connecting all devices.
Characteristics of the frame
• Frame of matt anodized aluminium, double sided on casters.
• 2 panels of melamine 19mm with area 1400 x 670 mm
• Shelf of grey melamine 19mm, depth 400mm.
• Dimensions H1840 x W750 x D750 mm. Weight 87kg
• Mains power supply lead 2P+E, 3 metres.
You may also be interested in these products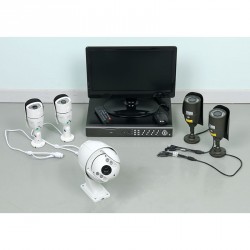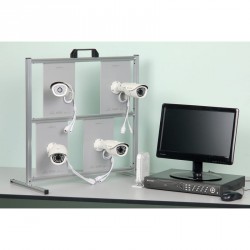 Free
quotation

Answer
under 48H00

Delivery
worldwide

2 years warranty
for all our products

Export service
available
Do you need help ?
You can't find a product,
You want technical informations,
You want to talk with us
Contact us
Find out all the useful contacts
Where to find us ?