Back to the list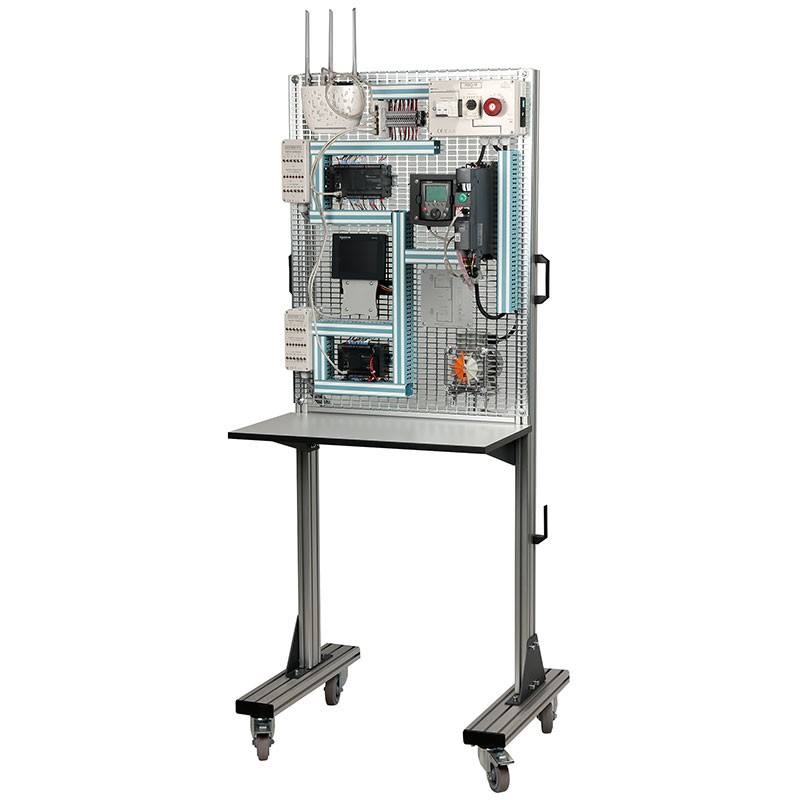  
Fieldbus study model (MODBUS - CANOPEN - ETHERNET)
In the practical works, the sequences of programming of each components is provided in the form of video files for a better understanding of the student.
Educational objectives
• Studying of Fieldbus communication between different automatism components
• Studying of the ethernet wiring and IP network creation
• Settings of Ethernet components
• Programming of the set
• Configure a Wifi network and control the components from a tablet
Composition of the model
Power supply from mains 230V-2P+E.
• 1 power supply unit with user and appliance protection (30mA) distributes voltage 24VAC to the speed controller (for the PLC, HMI*, offset I/O interfaces and 230VAC-2p+E).
• 2 "machine" boxes each with 3 PB, 3 switches, 7 indicator lamps and 3 PB and 3 switches for simulating sensors.
• 1 PLC Ethernet 24 inputs /16 outputs
• 1 PLC Ethernet 14 inputs /10 outputs
• 1 ETHERNET switch 5 ports RJ45
• 1 touchscreen HMI 3.8" with Ethernet ports
• 1 speed controller ATV32-0.18kW
• 1 asynchronous motor 230/400V- 0.12kW with fan for viewing rotation.
• 1 multifunction programming graphic terminal with large monochrome screen
(8 lines) 240x160 pixels for programming the speed controller
• 1 set of Ethernet leads.
• 1 software for PLC programming.
• 1 Vijéo designer software for programming the HMI.
• 1 SoMove software for programming the speed controller ATV32.
• 1 WiFi router configured (local WiFi specific to the system). Piloting via the free VijeoDesign'air application.
• 1 DVD includes the instructions for the different components and the practical assignments and programming examples for the PLC, the speed controller and the HMI* (video).
Free
quotation

Answer
under 48H00

Delivery
worldwide

2 years warranty
for all our products

Export service
available
Do you need help ?
You can't find a product,
You want technical informations,
You want to talk with us
Contact us
Find out all the useful contacts
Where to find us ?